No Attendee Downloads
Attendees join your webinars by simply clicking a link. No downloads for them. No stress for you.
Personal URL & Dedicated Dial-In
With your personal meeting URL and a dedicated dial-in that never changes, it's easy to get attendees to your webinars.
Webinar Recording & Sharing
Record your webinars with just a simple click. Capture meeting content plus webcams. And we'll even host your recording so you can share them easily.
Custom Branding
Add a custom backdrop image and logo to further promote your business through the webinar. Make a lasting impression on all your attendees.
Exceptional Features to make your Webinars Stand Out
Support for up to 1,000 attendees
Large webinars are no problem with AnyMeeting. Host webinars with up to 1,000 attendees.
---
Handouts & Polling
Poll your audience to gather information, increase engagement, or generate live insights during your webinar. Also, enable attendees to directly download your presentation during the webinar to make a lasting impression.
---
Clean and Intuitive Design & Controls
With our clean, simple design and intuitive controls, webinars have never been easier for both you and your attendees.
---
Custom Registration Forms
If you choose, create a custom registration form to gather needed information about your webinar attendees.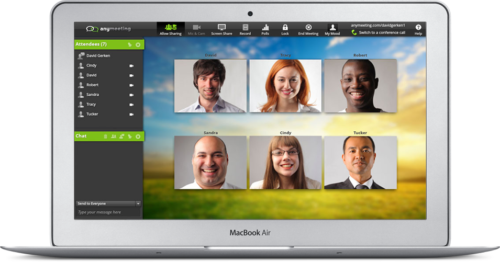 Toll Free & International Dial-In
Go global with dial-in numbers in more than 40 countries, and add a more professional touch with optional toll-free.
---
Follow-Up Emails, Surveys & Tests
Want to know what your attendees thought of your presentation or gauge what they learned? Easily create a survey or test to be emailed at the end of your webinar.
---
Practice & Off-Air Mode for Hosts
Ensure your webinars are flawless by hosting as may practice sessions as needed, and preparing before going live.
---
Promotion Through Facebook & Twitter
Create buzz and drive attendance for your webinar by using our social media integration to automatically promote your meetings on Facebook and Twitter. Once enabled, AnyMeeting can send meeting announcements and updates to your feed.