Easy and Productive
Online Meetings
Online meetings and web conferencing any time you want to meet with customers, clients, prospects or your team
set up for success
Our online meeting software allows you to customize your meeting rooms and then integrate them with your other systems, for truly personal and productive online meetings.
Custom Branding
Add a custom backdrop image and logo to further promote your business through the webinar. Make a lasting impression on all your attendees.
Personalized Profiles
Set up to import image and bio from LinkedIn Profile of attendees and personalize your online meeting
Integration With Popular Business Apps
Connect AnyMeeting to leading email marketing, marketing automation and CRM platforms in minutes. Automatically pass registration, attendance and event data to and from your favorite business apps with our Zapier integration.
execute flawlessly
With everything you need to host truly productive online meetings, AnyMeeting is a turn-key online meeting service for individuals as well as teams.
HD Video Conferencing
720p HD Video Conferencing with up to 6 others. If your meeting has more participants than that, they can easily take turns on video as needed. Layouts adjust automatically for optimal size and viewing experience. It's almost like being there.
Built-in Phone Conferencing
Your AnyMeeting account includes a conference call number and PIN codes, so participants can join by phone or computer.
International Dial-in
Also for Pro subscribers, local dial-in numbers are available in over 40 countries. Pro user and their attendees can now choose a dial-in number that's most convenient for them – whether calling from Germany, Brazil, Australia or Japan. Click here to see the complete list of supported countries
Mobile Friendly
Are your attendees on the go? No problem. They can also join by iPhone, iPad or Android tablets.
Handouts
Enable attendees to download your presentation directly during the webinar. Make a lasting impression with a compelling handout that will further carry your message and brand.
Video Sharing
Upload and share videos live in your meeting and easily control the playback. Your audience stays in perfect sync as you play, pause and advance the video.
Screen Sharing
Simply start screen sharing and display the document you'd like to share – it's that easy. Share anything that can be displayed on your computer, including PowerPoint, Excel, Word and web pages.
Recording and Hosting
Just press record and we do all of the work for you. We'll record the screen sharing and the audio, and even host the recording on AnyMeeting.com so you can share it with those who couldn't attend live using just a link.
Meeting Notes
Keep track of critical meeting decisions, action items and information, publicly and privately. Once the meeting is over, notes are emailed to you and your attendees.
Presentation Sharing
Screen sharing is great for sharing applications and websites, but for speedier performance with PowerPoint and PDF documents, try uploading your documents to AnyMeeting. In addition to faster slide transitions, you'll have access to those documents for future webinars — anytime, anywhere.
Meeting Screenshare Laptop Image 2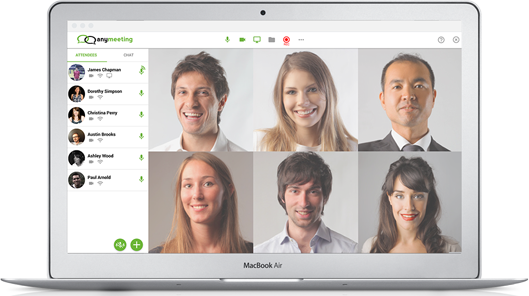 Make yourself heard
Our HD audio quality ensures that everyone in your online meeting comes across loud and clear.
Toll-Free Calling
Have callers use your branded 800 number for only 6 cents/min
Best-in-class audio
Choose between VoIP and toll-based options at no extra charge
Simple Recording
Send out recordings after your meetings