Collaborate with Colleagues
using AnyMeeting
Does your small business support work-from-home team members? Do you work with colleagues or vendors across the country or around the globe? AnyMeeting provides all the features you need for efficient, effective communication and collaboration among remote teams. Whether video conferencing, screen sharing, document sharing, or just phone conferencing, AnyMeeting does it all with one, easy-to-use package. Enjoy the productivity and cultural benefits of more face-to-face collaboration without the cost or inconvenience of travel.
Use Cases
---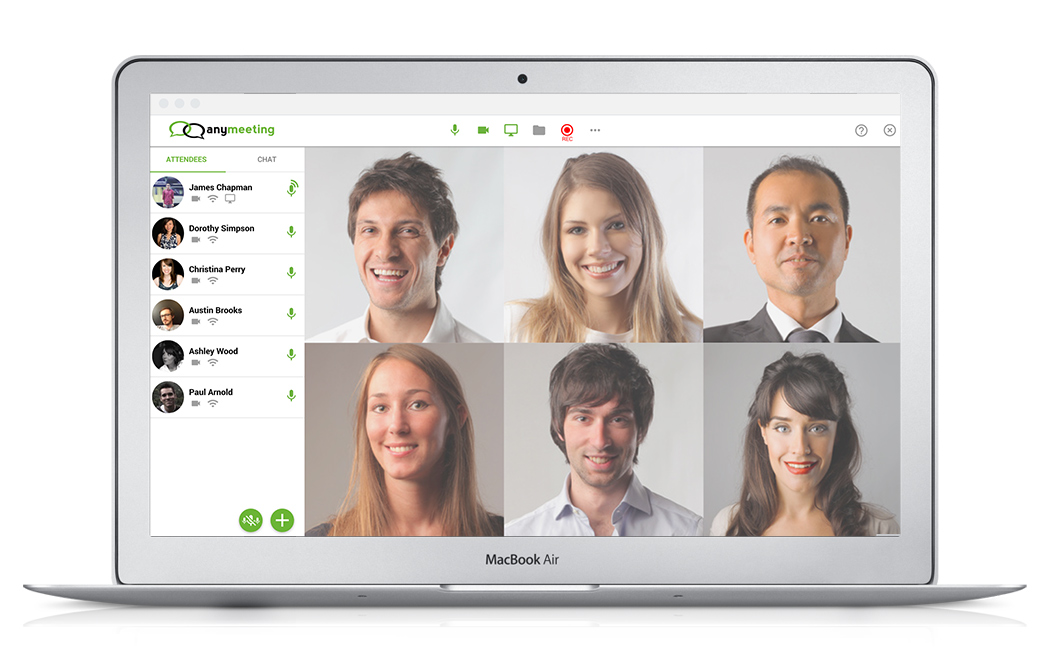 Video Sharing
Upload and share videos live in your meeting and easily control the playback. Your audience stays in perfect sync as you play, pause and advance the video.
HD Video Conferencing
720p HD Video Conferencing with up to 6 others. If your meeting had more attendees than that, they can take turns on video as needed. Layouts adjust automatically for optimal size and viewing experience. It's almost like being there.
Built-in Phone Conferencing
Your AnyMeeting account includes a conference call number and PIN codes, so participants can join by phone or computer.
Screen Sharing
Simply start screen sharing and display the document you'd like to share – it's that easy. Share anything that can be displayed on your computer, including PowerPoint, Excel, Word and web pages.
Mobile Support
Are your attendees on the go? No problem. They can also join by iPad or Android tablets.
Presentation Sharing
Screen sharing is great for sharing applications and websites, but for speedier performance with PowerPoint and PDF documents, try uploading your documents to AnyMeeting. In addition to faster slide transitions, you'll have access to those documents for future webinars — anytime, anywhere.
Meeting Notes
Keep track of critical meeting decisions, action items and information, publicly and privately. Once the meeting is over, notes are emailed to you and your attendees.
Integration with Popular Tools like Outlook and Google Apps
AnyMeeting offers integration with leading email and collaboration platforms like Outlook and Google Apps so you can access AnyMeeting directly from within the tools you already use daily.