Host Amazing Webinars
Extend your reach, host events, and build your audience
in online presentations, training sessions, demos,
live broadcasts, and more
before your webinar
AnyMeeting's webinar software allows you to promote your meeting, send invitations, and manage the registration of your attendees in a simple, all-in-one webinar service.
Integration With Popular Business Apps
Connect AnyMeeting to leading email marketing, marketing automation and CRM platforms in minutes. Automatically pass registration, attendance and event data to and from your favorite business apps with our Zapier integration.
Custom Registration Forms
Create a custom registration form to gather needed information about your webinar attendees.  Collect any kind of information before your webinar so that you can optimize your marketing and engagement efforts.
Promotion Through Facebook & Twitter
Create buzz and drive attendance for your webinar by using our social media integration to automatically promote your meetings on Facebook and Twitter. Once enabled, AnyMeeting can send meeting announcements and updates to your feed.
during your webinar
Focus on what really matters: engaging and influencing your audience with our easy to use and incredibly reliable webinar platform. With over 2 million webinars hosted, you're in good hands.
Up to 6 Live Presenters on Video
Bring in your panel of experts and engage your audience with support for up to 6 presenters on video at any given time.  Video drives engagement and credibility, and the AnyMeeting Webinar Pro platform allows you to fully take advantage of those benefits.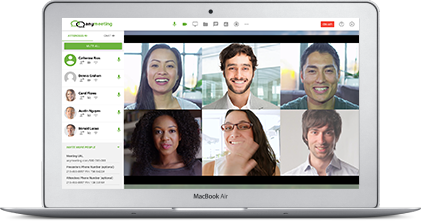 Audience Reactions
Love emojis?  So do we, and so does your audience.  That's why we've added the ability for your audience to let you know how they feel, in real time.  Emojis like laughter, crying and applause give you a true read on how the webinar is going.
Live Polls
Take a real-time poll of the audience on whatever topics you choose.  Create your polls live or ahead of time, and let the audience vote.  You're always in control, with visibility settings that allow you to change how responses are displayed — from no responses, all the way to showing counts and percentages.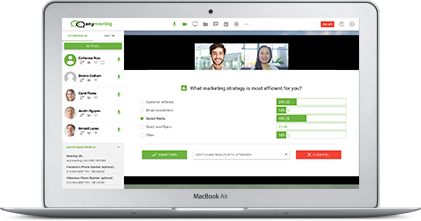 Audience Q&A
Make your webinars truly interactive by fielding questions from the audience in real-time.  Our built-in Q&A tool then allows you to review all of the questions, choose the best ones and display them as they're being addressed.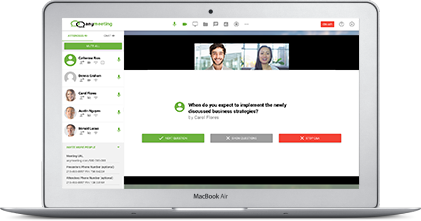 And even more amazing features to perfect your webinar…
Live Attendee Chat
Allow your attendees to drive the conversation with rich chat features like emojis and avatars.  Once the webinar is complete, you can download the report of the entire conversation.  You can also remove the chat as needed to draw focus to the presentation.
Attendee List with Social Data
Our platform uniquely allows you to see in real time who's in your webinar, with full social information about them.  Click on any of your attendees to get their public social media profiles, from LinkedIn, Twitter, Facebook and others.
Video File Sharing
Create engaging webinars by leveraging pre-recorded video content like testimonials, demos, trailers or other videos. Upload your MP4 videos to our content library and they'll be available for every webinar host.
Pre-Record Your Webinars
Doing the same presentations several times? Simply record the first one, then upload the recording into your content library and re-use it for all of your follow-up webinars. Takes the stress and effort out of live webinar production!
Share Slides
When you're delivering a professional presentation, why fumble with screen sharing — load up your best PowerPoint presentation and put your best foot forward.  Our Content Library lets you store up to 1GB of your content, ready to be pulled up at a moment's notice.
Built-in Phone Conferencing
Your AnyMeeting account includes a conference call number and PIN codes, so participants can join by phone or computer.
Screen Sharing
Simply start screen sharing and display the document you'd like to share – it's that easy. Share anything that can be displayed on your computer, including PowerPoint, Excel, Word and web pages.
Recording and Hosting
Just press record and we do all of the work for you. We'll record the screen sharing and the audio, and even host the recording on AnyMeeting.com so you can share it with those who couldn't attend live using just a link.
Mobile Friendly
Are your attendees on the go? No problem. They can also join by iPhone, iPad or Android tablets.
Up to 1,000 Attendees
Up to 1,000 attendees is no problem with AnyMeeting. And you can record your webinar to reach an even wider audience afterwards.
After your webinar
Engage your attendees and fully evaluate the effectiveness of your event with our follow up tools
Analytics and Statistics
Use our built in reporting to see who attended your webinar and for how long. Evaluate your surveys and quizzes. Review your engagement data.
Follow-Up Emails, Surveys, or Quizzes
Want to share materials or ask questions so you know what attendees learned or decided? Easily create emails, surveys, or quizzes and send links, questions, or other material to your audience and reinforce your message.
Social Media and More
Extend your reach with access to recorded webinars, postings to social media, sharing of user satisfaction scores and more